Are your students receiving practical global knowledge?
Do they have access to the classes that will teach them how to be successful in the global marketplace?  Our college lecture series will teach them essential job skills through an understanding of the mechanics of exporting.  The Riddle of the Exporter™ is an interactive, easy to understand method of conquering the world of exporting, step-by-step.  International trade is a key component in the business world today.  Students who know the process of exporting will stand out in the crowd.
---
The Riddle of the Exporter™ 8 Step Process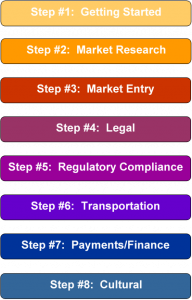 Step #1 Getting Started:  Why export? Is it worth it? Are you export ready?
Step #2 Market Research:  Are you responding (Accidental Exporter) or planning ahead (Intentional Exporter)?  Best foreign market?  Export requirements?
Step #3 Market Entry:  Once you've decided where to export, use proven techniques for successful market entry.
Step #4 Legal:  Learn how to protect your company and your intellectual property in the global marketplace.
Step #5 Compliance:  Determine the government agencies here and abroad that are involved in exporting. Determine if you need an export license.
Step #6 Transportation:  Learn how to find a good freight forwarder, the best method to ship your product and about the "Infamous Incoterms®".
Step #7 Payments & Finance:  Learn to analyze risk, find the best payment methods to counter that risk. Learn about government programs for export finance.
Step #8 Cultural:  At least 30% of export deals fail because someone didn't think cultural communications were important. Don't flunk lunch!
---
Course Description
The Riddle of the Exporter™ examines the processes involved in international trade transactions with emphasis on working through an actual export transaction. Discovery learning is the core teaching method.  Upon completing this course, the student will understand the following:
The pattern of exporting and importing used throughout the world, specifically similarities and differences

A repeatable process to export USA products that is constant in the midst of ever changing information

Government agencies involved in the export process

Market research and market entry resources

Legal considerations when exporting

Compliance regulations here and abroad

Transportation methods and considerations

Risks undertaken and controlled through payment procedures

The absolute importance of good cultural communications
---
Levels
This flexible curriculum can be inserted into any existing business class.  It can be used as an overview or as a more extensive look into exporting.  The level of difficulty is entirely up to you.
Level 1 Basic
One class with outside class reading
PowerPoint and abridged Workbook
Assignment:  exporting one simple product to one country
Level 2 Intermediate
Two classes
PowerPoint, unabridged Workbook and outside resources
Assignment:  class divided in two groups, exporting two pre-chosen products to two countries, or four groups, exporting one pre-chosen product to four countries
Test and basic business plan required
Level 3 Advanced
Four classes
PowerPoint, unabridged Workbook and outside resources
Assignment:  After utilizing the elements of Levels 1 & 2, examine more complex products exported to two countries not previously covered
Test and in-depth business plan required
Coordination with Elyse to assist with course details
Contact us today for details about how The Riddle of the Exporter™ curriculum can provide your students with knowledge and skills that will enhance their future in a changing global marketplace!
---
The Riddle of the Importer™ 8-Step Process
The Riddle of the Importer™ training is available upon request.
What people say about us!
"I would personally like to thank you for your help with the export business plan we submitted in the Free Trade Alliance Education Foundation International Business Plan Program. When we started, we had no clue what we were doing or how it would get done but you helped us tremendously! The Riddle of the Exporter™ program helped organize our thoughts, gave us a platform of what to research and in the end helped us bring together our global idea with global marketing strategies. As the first ever team to compete from the Alamo Colleges we were able to use The Riddle of the Exporter to place 3rd in the Undergraduate category. This competition covered 18 teams representing schools from 23 countries! It was a proud moment for all of us.
Naphtali B. & James L. and all of Team #15  from Alamo College

I am a student taking classes in international trade.  I was having trouble making sense out of all the different topics until I found the Riddle of the Exporter™ workbook.  The workbook outlines an 8 step process to complete an export transaction, gives key information and follows up with checklists.  Now it all makes sense.  I keep it on my desk and refer to it often.